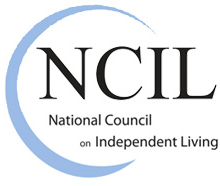 Have You Had Problems with Medicare's 'In Home Rule'?
The Centers for Medicare & Medicaid Services' (CMS) 'In Home Rule' restricts Medicare coverage of mobility assistive equipment (wheelchairs, walkers, scooters, and other mobility devices) to only those needed for assistance with Mobility-Related Activities of Daily Living (MRADLs) in the home. MRADLs include things like feeding, grooming, bathing, etc. Medicare does not consider someone's needs outside of the home when determining which assistive device to cover.
NCIL has been asked to provide examples of people who have experienced barriers because of the In Home Rule. If you have had difficulty getting the appropriate wheelchair or assistive device, been denied a needed device altogether, or if you are not able to use your wheelchair or other assistive device in the settings you need because of this rule, we want to hear from you! Please contact lindsay@ncil.org and share how the In Home Rule has impacted your life.